As BAR's current editor-in-chief, I feel a combination of responsibility and pride. I feel the responsibility of safeguarding the legacy of the brilliant people before me, and the pride of having the opportunity to contribute to the journal's future.
Thus, I will first present a timeline with some of the past achievements – which are very present and relevant – and then share with you the most recent developments and challenges.
BAR has been published since 2004, initially every semester and, from 2007, every four months. Just after three years of its first publication, in 2007, BAR entered the Qualis/Capes classification. In 2008, the journal grew to require an extra issue per year, becoming a quarterly publication. In the subsequent year, BAR was honored to join the Scielo Brasil Collection and Scopus databases, showing an evolution always associated with high quality. In 2012, it adopted the publication modality 'ahead of print.' As part of its constant qualification and modernization process, in 2013, BAR started using the international manuscript management platform ScholarOne Manuscripts. In 2014, it was accepted as a member of the Committee on Publication Ethics (COPE), an important conquest demonstrating its transparency, ethics, and good scientific publication practices. In 2015, BAR adopted the Creative Commons license (CC BY), following the SciELO standards to facilitate access to information and knowledge dissemination. In 2016, BAR innovated again by transitioning from 'ahead of print' to 'continuous publication,' accelerating the publication process. Also focusing on good publishing practices, in 2020, BAR started encouraging open science practices.
These were just a few of BAR's past actions – which I was unaware of before becoming editor-in-chief in 2021. Perhaps this ignorance was beneficial. Maybe I wouldn't even have applied for this role if I knew the magnitude of this responsibility.
Notwithstanding, I am lucky to have an extremely competent editorial team that motivates me and makes it easier to find opportunities for collaboration. Since I took on this position, my team and I have tried to keep up with the achievements and honor the paths already taken. Looking forward, we are continuously seeking contributions, hoping to maintain the high standards that characterize the journal.
In 2021, we established a team of permanent associate editors covering the key submission areas to offer more quality and accelerate the reviewing processes. In the same year, we began to accept submissions in Portuguese, which resulted in a significant increase in the number of manuscripts received. Our official language is still English, but articles submitted in Portuguese are translated after final acceptance. Regarding the developments in 2022, three points are worth mentioning: the authors started to retain the copyright of the published article; we started a process of greater transparency by publishing the indicators of reviewing times and citation rates on our website; and we submitted BAR to the Web of Science (awaiting approval). Finally, in early 2023 we adopted a new layout for the journal and started using specialized software for layout. Above all, we are really proud to define our policies and practices to promote diversity, equity, inclusion, and accessibility in research evaluation and communication. Amid responsibilities and challenges, I hope we can maintain the achievements and bring more innovations, contributing to BAR's continuous growth.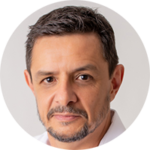 All these achievements result from teamwork from the current team and all those that came before us.
Check out the testimonials from some of our team members below!
Thank you all so much, and long live BAR!
Prof. Ivan Lapuente Garrido (Professor at the University of Vale do Rio dos Sinos (UNISINOS); BAR's Editor-in-Chief)
"This is a statement full of emotion knowing that BAR completes 20 years of contribution to the dissemination of scientific knowledge in the field of administration. I had the pleasure of participating in the creation of BAR and acting as editor-in-chief of the first two issues of the journal. I asked to be replaced by another editor-in-chief because, in 2005, I assumed the role of coordinator of the Administration, Accounting and Tourism area at CAPES, which could configure a typical conflict of interests. ANPAD took the initiative, daring for that time, to edit a periodical in English, aiming to contribute to increasing the level of coverage of Brazilian production in administration.

As expected from the beginning, authors from other countries soon joined Brazilian authors and today, after 20 years, BAR has become institutionalized as one of the most important Brazilian journals, with a prominent place in international databases of scientific publication. Having participated in this project and following the development of the journal over these 20 years are reasons for pride for me and I can say that the objective of ANPAD, with the creation of BAR, was achieved. Congratulations to everyone who contributed and continues to contribute to this project."

Prof. Tomás de Aquino Guimarães (Full professor at the University of Brasília, Management Department; First editor-in-chief of BAR, from July 2004 to June 2005)

"BAR, 20 years! BAR was a daring idea of ANPAD. It was indeed a breakthrough and a path-opening initiative to launch an academic journal fully in English in Brazil, when Brazilian researchers were not required to publish so much, let alone in English. BAR moved way beyond Brazil, to become a well-known scientific journal in the region and, to some extent, also in other continents. Having served as editor-in-chief of BAR for five years (2010-2015), I am deeply indebted to the associate editors and the expert reviewers who helped me keep up and improve the quality standards of the journal and its international recognition.

I am also thankful for the support that I always received from my editorial assistant Luciane Kiwara and from ANPAD directors and administration. BAR has set a strong example, which has been followed by other Brazil-based journals, to attract contributions (authorship and reviews) from abroad. My experience in BAR certainly has helped pave my way to serve in editorial positions in international journals and, since mid-2021, as editor-in-chief of RAE (Revista de Administração de Empresas), which has also broadened its frontiers to become an international journal. BAR will always be in my heart!"

Prof. Jorge Manoel Teixeira Carneiro (Associate Professor of Strategy and International Business at FGV EAESP; editor-in-chief of BAR between October 2010 and January 2015)
"Assuming the role of editor-in-chief of BAR in 2015, I was presented with several challenges. Some colleagues questioned the validity of a journal with only articles in English in a country where the official language is Portuguese. I participated in some roundtables with editors from other journals and I always defended that the visibility of national academic production, in a globalized world, was clearly related to publication in the English language. I remember that, as editor-in-chief, I faced difficulties in selecting articles: finding high-quality articles that meet international standards for publication in English, especially in an academic community not used to or "forced" to write in English. Another point I would like to highlight concerns competition with other publications. There are many academic journals published in English around the world, so it is difficult to attract authors and readers to a Brazilian publication with an impact factor that is not very competitive.

Although BAR is supported by ANPAD, publishing an academic journal in English in Brazil can be expensive, especially with the need to pay for English editing services. To face these challenges, I tried to develop a network of contacts and collaborators in Brazil and abroad, which made my tenure at BAR a pleasure and a period of much learning. I am happy to see that BAR is increasingly expanding its reach and strengthening itself as one of the main journals in the field of administration in Brazil."

Prof. Salomão Alencar de Farias (Professor of Marketing and Consumer Behavior at the UFPE/CCSA; Editor-in-chief of BAR between January 2015 and April 2018)
"My career in scholarly research began by the time BAR was being conceived by some of the most privileged minds and reputed names of the Brazilian Academy of Management – ANPAD. I remember being tremendously proud and excited with the initial movements of that pioneering Brazilian outlet, devoted from its conception to promote our community's research to a global audience. When I was nominated the sixth editor-in-chief of BAR, I accepted the outstanding institutional responsibility of protecting BAR's history, championing its mission and enforcing the highest standards of academic editorship. Until then, for almost two decades I have been learning from my ANPAD peers and other role models, as well as from editorial positions I have had in other journals, how to manage the editorial process. But nothing compares to practice and to a venue as highly praised in the community and demanding as BAR. However, I had the support of great editorial assistants besides the institutional respect of the community to BAR. Therefore, it was a unique opportunity to make a strong contribution to the community that kindly welcomed me as a scholar coming from another field (computer science) and an opportunity to put into practice the values I have espoused and talked about for years. At times, I was also pushed to protect the editorial process from the influence of external factors that obviously exist, for better or worse, in any human enterprise.

The experience had an enormous impact on my academic perspective and character, since an editor has first-hand contact with sensitive information from the community. All in all, my three-year editorial term granted me a very positive view about the skills, honesty, openness, respect and enthusiasm of BAR's authors, reviewers, editors, editorial assistants, readers and impacted institutions, what thus means to me that the invisible hand of the sincere search for theoretical knowledge and effective applications will continue to guide BAR through the years to come."

Prof. Carlo Gabriel Porto Bellini (Professor and researcher at PPGA/UFPB; editor-in-chief of BAR between May 2018 and April 2021)

"BAR – Brazilian Administration Review is a Brazilian scientific journal published by ANPAD and prominent in the area of administration. It is indexed in Scopus, has an international vocation, and offers its readers cutting-edge knowledge in the most varied areas of management. BAR celebrates its 20th anniversary this year!

It was born to be a Brazilian journal aimed at foreign audiences, and over time it has undergone some changes. Recently, the publication underwent a modernization process, the articles gained a new layout, and the publishing process was professionalized. More changes are to come, including the indexation in other international databases. The articles published in BAR by Brazilian researchers and foreign authors have challenged the limits of the frontier of knowledge, and this boldness demonstrates vitality for even greater achievements. Long live BAR!"

Prof. Rafael Barreiros Porto (Professor and researcher at FACE/UnB; Director of Communication and Publications at ANPAD)

"BAR – Brazilian Administration Review is completing 20 years of continuous publication. BAR and RAC – Journal of Contemporary Administration, are important initiatives put forward by the Brazilian Academy of Management (ANPAD) to improve and consolidate the high-quality academic work in our field. They were the first two scientific journals unrelated to academic programs and teaching institutions, representing a plural community of researchers like the most consolidated international journals, such as the Academy of Management Journal, Strategic Management Journal, and Journal of Public Administration Research and Theory, among others also managed by academic membership organizations. BAR was a pioneering Brazilian journal published in English, seeking to advance the internationalization of administration research produced in the country.

Many challenges still need to be faced in the management of ANPAD academic journals, particularly in the context of hundreds of journals that compete in quantity and quality in the Brazilian context. The challenges are even greater for a journal that publishes in English as it seeks to reach beyond national borders. I congratulate the journal's current editor-in-chief, Professor Ivan Garrido, for his vision of making BAR a showcase for the best academic research in administration originating in the Brazilian context."

Prof. Alketa Peci (Associate Professor at FGV EBAPE; ANPAD's President‐Elect)
Published by at 03/15/2023 às 10:54