Brazilian researchers cross borders and stand out at the 83rd AOM Meeting!
International News
| 10 Aug 2023
Between August 4th and 8th, the 83rd Meeting of the Academy of Management (AOM) took place in Boston. During the four-day event, academics from around the world gathered in the capital of Massachusetts to participate in various activities that included a reception hosted by ANPAD, symposiums, workshops, and awards. 
Founded in 1936, AOM is currently one of the leading professional associations for management and organization scholars. Created with the aim of building a vibrant and supportive academic community of scholars, the association has about 18,000 members in more than 120 countries, including faculty and doctoral students in management, social sciences, and other fields, as well as professionals who value the creation and application of knowledge.  
The annual AOM Meeting is the world's largest gathering of management and organization scholars, offering participants the opportunity to expand research, network with colleagues, and disseminate knowledge about 21st-century challenges related to management and organizations. Finally, the Meeting provides a unique opportunity to interact with thousands of AOM members and colleagues from around the world who share similar ideas. 
ANPAD had the honor of participating in this event hosting the "Brazilian Academy of Management Reception" in partnership with FGV/EAESP, FGV/EBAPE, Fundação Dom Cabral, Insper, and UFPR, on August 6th at the Sheraton Boston Hotel. The initiative was part of the official program of the AOM Annual Meeting and aimed to highlight Brazilian academia and establish significant connections at the international level, providing a special moment of camaraderie, exchange of experiences and knowledge among national and international researchers and scholars. 
The event was also an excellent opportunity to strengthen the partnership between ANPAD and AOM. The collaboration between international and national associations is highly beneficial for the development of research in the country. By creating bridges that enable more Brazilian researchers to engage internationally, the researcher's sphere of influence expands, research relevance increases and their work gains greater global mobility.  
This exchange is championed by Professor Maria Tereza Leme Fleury, who was honored with the prestigious IM Division "Outstanding Educator Award of the Year". The International Management Division of the Academy of Management is dedicated to content related to management theory, research, and practice across geographical and cultural boundaries. The award offered to Professor Maria Tereza is dedicated to professionals who work with innovation and continuous excellence in teaching international management, at all levels and in a global context. The winners of the awards offered by the AOM IM Division were chosen by the division's Executive Committee and were honored at the IM Division Awards ceremony, which took place on August 7 as part of the AOM Annual Meeting.  
The former director of ANPAD, former director of FGV- EAESP, FEA- USP, and long-standing association colleague of our association, Professor Maria Tereza has research and professional experience in the area of Strategy and International Management, Competence Management, and Culture. She is a full professor at Fundação Getulio Vargas (FGV EAESP). In 2021, she was elected president of the Academy of International Business (AIB), becoming the first candidate from Latin America to hold the position. 
For Professor Fleury, researchers occupying international spaces, in research projects, events, and the like offer an opening and a broadening of horizons that is fantastic. However, beyond exporting our researchers, it is important to emphasize the significance of them bringing knowledge back to Brazil, just as many researchers that have built renowned careers and continue to work in the country.  
ANPAD's President-elect, Professor Alketa Peci, was also present at the event in Boston, representing ANPAD at the reception idealized by her " The Brazilian Academy of Management Reception" and during a meeting between associations "Forum for Leaders of the Academy's Affiliated & Associated Societies" that took place as part of the Meeting AOM Annual. In addition to Professor Alketa, representatives from AAOM (Asia Academy of Management), EGOS European Group for Organizational Studies), AFAM (Africa Academy of Management), WAM (Western Academy of Management), ANZAM (Australia & New Zealand Academy of Management), AOM (Academy of Management), SMA (Southern Management Association), INDAM (Indian Academy of Management), MWAOM (Midwest Academy of Management), SIMA (Società Italiana Di Management), IBERO (Iberoamerican Academy of manage)  and EAM (Eastern Academy of Management).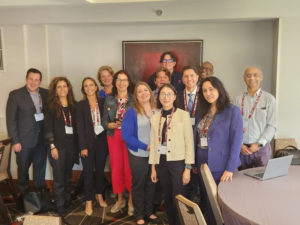 Meeting among representatives of partner associations during the AOM Annual Meeting.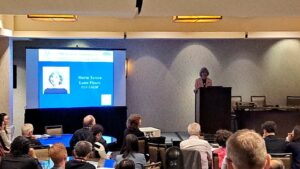 Professor Maria Tereza Leme Fleury during the award ceremony at the 83rd AOM Annual Meeting 
Read more about the event and AOM on the association's website: https://aom.org/